Whirlpool American Fridge Freezer – WQ9B1L1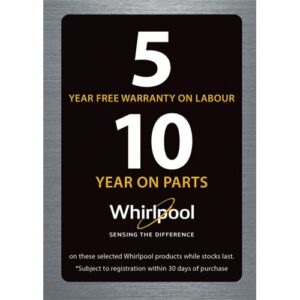 Whirlpool American Fridge Freezer - WQ9B1L1
whirlpool WQ9B1L1
Fast Cooling
The temperature inside your refrigerator drops immediately, when new food is stored. Built-in sensors automatically adjust cooling temperature to return food to the desired temperature in half the time.
6th Sense Fresh Lock
Preserve food for longer, in the most natural way. 6th Sense Technology powered by Inverter Compressor ensures precise and consistent temperature control. When the temperature changes, a sensor activates the Compressor that quickly restores it.
6th Sense Freeze Lock
Freezer burns are reduced preserving quality and appearance of food. 6th Sense Technology minimises temperature fluctuations in the freezer.
Electronic Control System
Pitch-perfect performance. This Whirlpool Refrigerator features an Electronic control system that ensures correct parameter settings at all times, providing the ideal performance and temperature control.
Flexi Freeze
The spacious Flexi Freeze compartment adapts to your needs, allowing you to select the correct temperature level for what you are storing. Soft Freeze - 7°C: avoid defrosting process for frozen food you will eat within a week. You can place food directly from the freezer into the pan. Mild Freeze -12°C: keep ice-cream and desserts ready to serve. Deep Freeze -18°C: preserve nutritional value of food for longe.
560 - 600 L Capacity
All the space you need. This Whirlpool side-by-side is designed to provide all the space you need to comfortably store your food and drinks.
Cleaning & Maintenance
The presence of automatic or semi-automatic options to prevent or reduce the formation of ice, and thus the cleaning effort.
Energy Rating
The Side-by-Side appliance's energy rating. The higher the rating, the higher the energy-efficiency of the product.
Energy Class A+
Greater energy efficiency. With its A+ energy rating, this Whirlpool appliance will allow you to enjoy both ideal performance and excellent energy consumption.
Design
Distinctive aesthetic elements, such as user-friendly interfaces, intuitive ergonomic controls, and other attractive design features.
Product Features:
3 Temperature zones
Digital display
No freezer balconies
Fast cooling switch
Door opened indicator freezer
Glass with profile material of the shelves
Length of electrical supply cord 180cm
Stapletons Expert Electrical have been serving the community since 1958. Our prices won't be beaten. Hence, the Best Deals in all our Electrical Departments. See our seasonal offers in washing machines, fabulous venting hobs and automatic coffee machines. Stapletons Galway Road store specialises in larger household electrical items, such as Range Cookers and American fridge freezers. Plus the ever popular Ninja Air Fryers. While the Vicar St store are experts for wearable devices, laptops, large screen TV's and electric scooters.