SUREFIRE GATOR EYE GAMING SPEAKERS – 114-48820
SUREFIRE COMPACT GAMING SPEAKERS FOR LAPTOPS AND PCS
Get the sound you need for your epic gaming sessions on your laptop or PC. Compact in size, but with the sound to impress, the SureFire Gator Eye 2.0 speaker set provides a rich sound boost for games, videos and music.
PRODUCT HIGHLIGHTS
Powerful stereo 2.0 gaming speakers
Enhanced bass performance
Easy to reach volume control on cable
USB powered: no wall power needed
Works with all PC / laptops
CRANK UP THE BASS
Do you like powerful bass? The 5W RMS stereo speakers deliver enhanced bass that will fill the room and resonate through you. The red accents on the speaker cone and surround are the perfect partner to your gaming setup.
EASY VOLUME CONTROL
Controlling the sound is easy; the volume button sits conveniently on the cable, allowing you to quickly adjust it at any time. No fiddling with the controls on your laptop.
PLUG & PLAY
The Gator Eye is USB powered. Connect to an audio output from a PC, laptop or games console with the 3.5 mm stereo jack and a USB 2.0 (or higher) port and you are ready for action. No need for a separate wall plug!
SPECIFICATIONS
NAME: GATOR EYE GAMING SPEAKERS
PART NUMBER: 48820
Dimensions W x L x H: 122mm x 100mm x 105.7mm each
Weight: 632 grams
Driver Size: 60 mm
Driver Units: 2
Speaker Impedance: 3 Ohms
Audio Input: 3.5 mm jack
Power Output (RMS): 5 W
Power Source: USB
Frequency Response: 80 – 20,000 Hz
Signal to Noise Ratio: >70 dB
Connection Type: Wired
Bluetooth: No
Cable Length: 125 cm
Compatibility: Laptop, PC, Games Console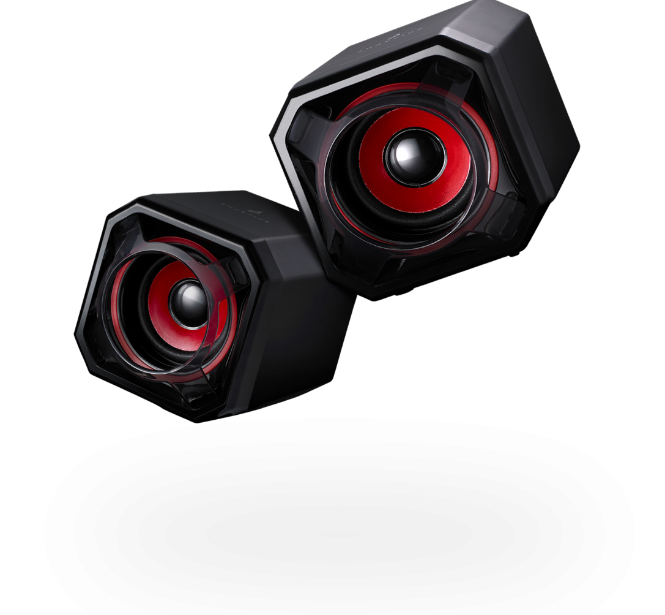 SYSTEM REQUIREMENTS
PC/Notebook or Consoles with 3.5mm jack for sound transmission and USB 2.0 or higher for power supply.
PACK CONTENTS
SureFire Gator Eye Gaming Speakers
Quick Start Guide