Smeg 110cm Dual Fuel Range Cooker Cream – TR4110P1
Type: Range Cooker
Size: 110cm
Feature(s): 7 Burner Hob
Energy Rating: A
Colours Available: Cream, Black, Red Wine, Silver, Pastel Pink and Pastel Blue
Dimensions HxWxD: 895-910X1100X600
Height Splashback: 135mm
Main Oven (Top Right): 63 Litre Net. 7 Functions
Auxiliary Oven (Bottom Left): 63 Litres Net. 6 Functions
Grill Compatment: 35 Litre Net. Closed Door Grilling
Warranty: 5 Years when registered online
Storage Drawer: Lower Right
Gas Type (hob): Natural Gas. (LPG Convertible)
Smeg Victoria Traditional 110cm Dual Fuel Range Cooker - Cream TR4110P1
Running 15/03/23 - 31/05/23
Start promotion:
 15 March 2023
End promotion:
 31 May 2023
Redemption promotion:
 30 June 2023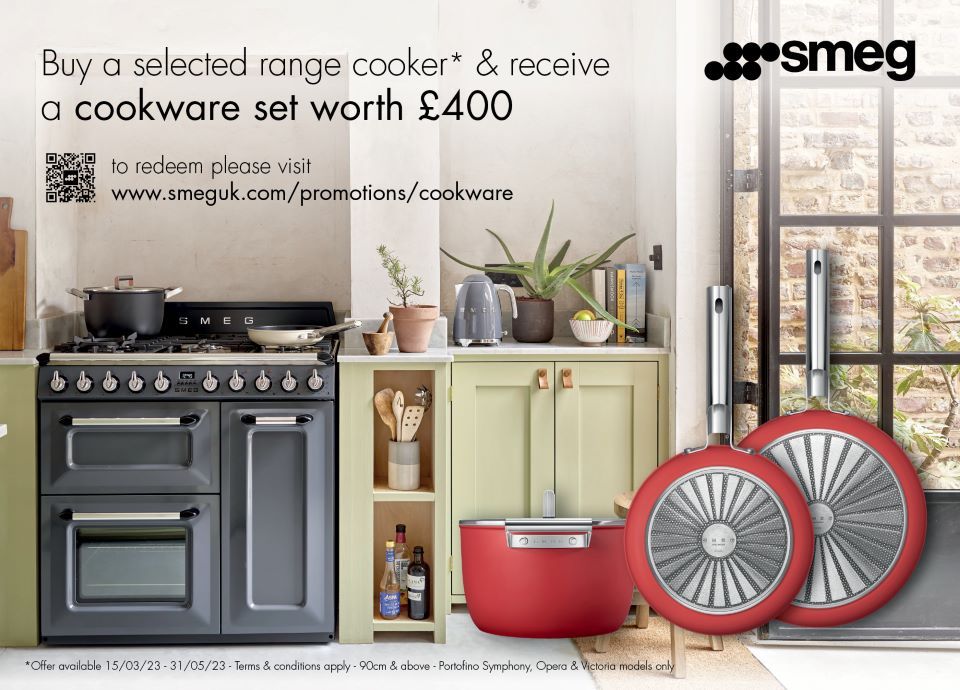 Dimensions:
H89.5-92 x W110 x D60 cm
Sleek and stylish finished in glossy cream the Smeg TR4110 Victoria Traditional range cooker injects instant style in to your kitchen. Kitted out with 2 large capacity ovens each offering a 63L capacity, multiple grill spaces and a spacious 7 burner hob the TR411 is ideal for feeding the five hundred and culinary masters.
Unique design, robust quality
Smeg have delivered a unique traditional design which is high in quality and durability. The gas hob has been fitted with heavy duty cast iron pan stands to deliver you stability that lasts. Whilst the oven doors have been triple glazed to lock in that precious heat and maintain an even temperature, perfect for the most temperamental of dishes.
Easy clean
The interior of the ovens and grill are coated with enamel and are all fitted with roof liners and removable front door panels, making cleaning super easy!
Wide choice of cooking functions
The TR411 presents you with an easy to navigate fascia with quality, easy turn knobs offering a variety of cooking functions alongside a programmable timer.
The main oven has 7 cooking functions to choose from;
Lower heating element only
Grill element
Upper and lower element only
Fan with lower element
Fan with grill element
Circulate
The Auxilary oven includes all these same functions apart from circulate. With two ovens offering a wide variety of functions you can select a setting best suited to one dish in the main oven and another in the auxiliary oven, delivering you perfect results fit for a large family feast.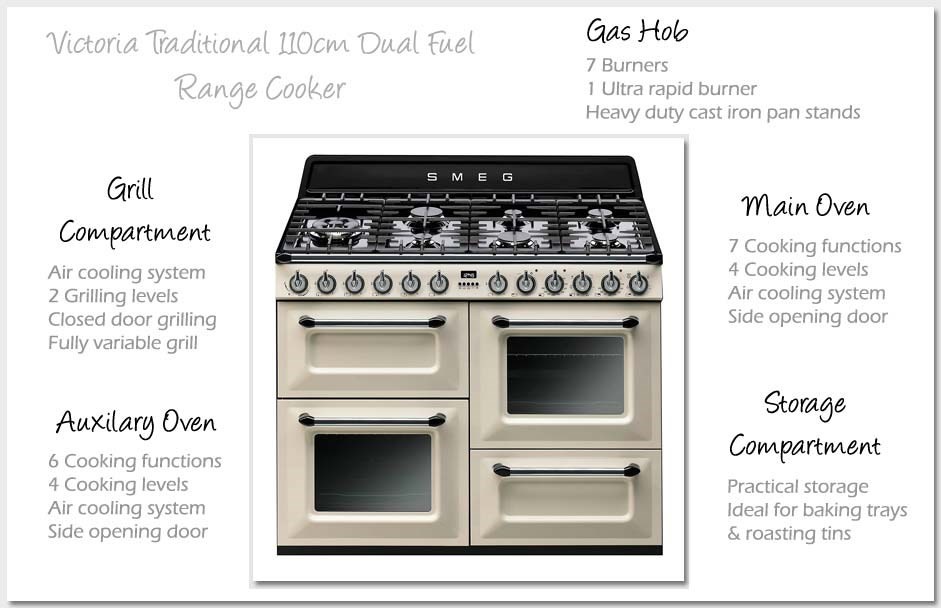 Spacious hob
Fitted with a gas hob with automatic electronic ignition you are delivered instant heat which is distributed well across the base of your pans. Gas hobs are a favourite with professionals.
The hob is spacious and includes seven burners in a variety of sizes, the front and rear right burners operate at 1.80kW, the rear centre and front left operate at 1.00kW, the rear left and front centre operate at 3.00kW
and the far left burner is an ultra-rapid burner operating at 4.20kW.
Accessories
The TR4110 Victoria Traditional 110cm Dual Fuel Range Cooker comes equipped with plenty of accessories offering excellent functionality. The main oven includes a 40mm deep tray, grill mesh, chrome shelf and a partial telescopic shelf set. The auxiliary oven also has a 40mm deep tray, grill mesh and chrome shelf. The oven includes a 20mm deep tray, grill mesh, chrome shelf and partial telescopic shelf set.
Take a look at the instructions
Features:
Main oven capacity: 63L
Second oven capacity: 63L
Glossy cream
Robust build quality
Spacious hob with 7 Burners
Programmable timer
Defrost function
Triple glazed oven doors
Easy clean enamel interior
Roof liners
Fuel type: Dual
Main oven function: Fan
Hob type: Gas
Flame failure safety device
Main oven energy rating: A+
Second oven energy rating: A
Main Oven Energy Consumption- Convection 0.80kWh
Main Oven Energy Consumption- Forced Air Information 0.69kWh
Freestanding
Welcome to Stapletons Expert Electrical
Stapletons Expert Electrical have been serving the community since 1958. Our prices won't be beaten. Hence, the Best Deals in all our Electrical Departments. See our seasonal offers in washing machines, fabulous venting hobs and automatic coffee machines. Stapletons Galway Road store specialises in larger household electrical items, such as Range Cookers and American fridge freezers. Plus the ever popular Ninja Air Fryers. While the Vicar St store are experts for wearable devices, laptops, large screen TV's and electric scooters.