Samsung T400 2ch all-in-one Soundbar with BT connectivity – HW-T400/XU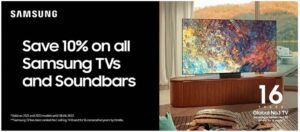 ***GET AN EXTRA 10% OFF THIS SAMSUNG SOUNDBAR***
DISCOUNT APPLIED AT CHECKOUT
*offer valid until 08/06/2022
2.0 ch dolby sound
Built in woofer
Total speakers x4
Optical audio connect
Nfc easy mobile connect
Analog audio input
Bluetooth tv connectivity
Usb music playback
Ready to wall mount
Remote control
Samsung T400 2ch all-in-one Soundbar with BT connectivity - HW-T400/XU
Take your home entertainment system to the next level with impressive sound from a compact form.
Product Description
Take your home entertainment system to the next level and enjoy sound that immerses you in the action. Hence, the Samsung T400 Compact soundbar design that does not compromise on sound, provided to you by Samsung - the most awarded Soundbar brand in 2019*. Elevate your sound experience with great sound and deep bass, One Remote, NFC, Bluetooth TV Connection and USB music playback.
*Based on Cision Analysis of product reviews in 2019.
Built-in bass
Bring your entertainment to life with bass performance from a compact design. Plus, fit more sound into your home with this all-in-one device that has built-in speakers to enhance the bass performance. The speakers are specialised for low sounds like the rumble of thunder in a rainforest whilst still providing the concert of chirping birds, howler monkeys and the buzz of crickets.
Bluetooth TV Connection
Keep your space neat and tidy with a Bluetooth connection to your Samsung TV. Moreover, experience superb and powerful sound that brings any TV show or movie to life. The T400 is the perfect addition when creating your dream home entertainment system.
One Remote Control
Declutter your coffee table with just one universal remote to control them all. A completely connected experience at the press of a button to control multiple connected devices. Samsung's Smart One Remote Control has the ability to control more than just your soundbar and can connect to multiple compatible devices from TV to set-top box.
Surround Sound Expansion
Make every seat the best seat in the house whether you are playing video games with friends or watching a movie with family. The T400 expands the optimal sound field to create wider surround sound with room-filling sound.
NFC
Connectivity in a touch to bring the music from your mobile to life directly from your soundbar. No need to go onto your mobile settings, just place your smartphone* on your soundbar and NFC (Near-Field Communication) technology will pair the two, eliminating the need for manual pairing. Quick connectivity without the need to drain your battery.
*Compatible Android or iOS device required.
We stock a large selection of Samsung TV products at Stapletons including headphones, home entertainment and speakers.
All products are available from Stapletons Exert Electrical over the counter at our Vicar Street Store in Tuam. Alternatively purchase at Stapletons Expert Electrical online shop for immediate shipment.