Samsung Series 5 Dryer 9kg Black – DV90BBA245ABEU
Description
Samsung Series 5 Dryer 9kg Black DV90BBA245ABEU
Samsung Dryer 9kg Black
Highlights
A+++ Energy Efficiency
Want great drying results using less electricity? Heat Pump Technology is gentler on your clothes than traditional condenser or vented tumble dryers. And with top rated A energy efficiency they won't cost the earth to run.
Hygiene Care
What germs? Remove dust, mites and germs by putting your wet or dry clothes in your tumble dryer.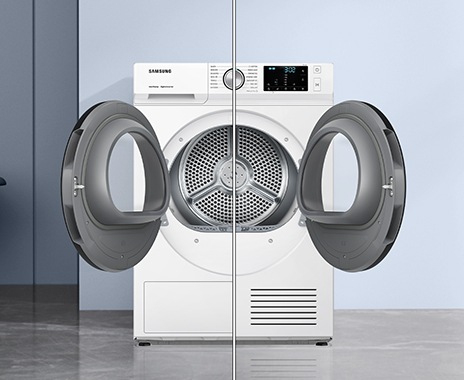 Reversible Door
Make your clothes easily accessible, wherever you place your Samsung tumble dryer in the home. With the reversible door, choose which side works best for you.
Dry efficiently and gently
Heat Pump Technology
Our Heat Pump Technology is the way forward for drying your laundry more efficiently. By reheating the air in the drum it's gentler on even the most delicate of delicates. And it means you'll use less electricity compared to a traditional condenser or vented tumble dryer , making it kinder on your bills and the environment too.
Tumble it all away
Hygiene Care
Now here's a tumble dryer that does more than simply dry your laundry? Towels, bedding, clothes, soft toys… Hygiene Care infuses every load with high temperatures. Even though it's powerful, it's gentle on your laundry too. And an added bonus? It works whether items are washed or not.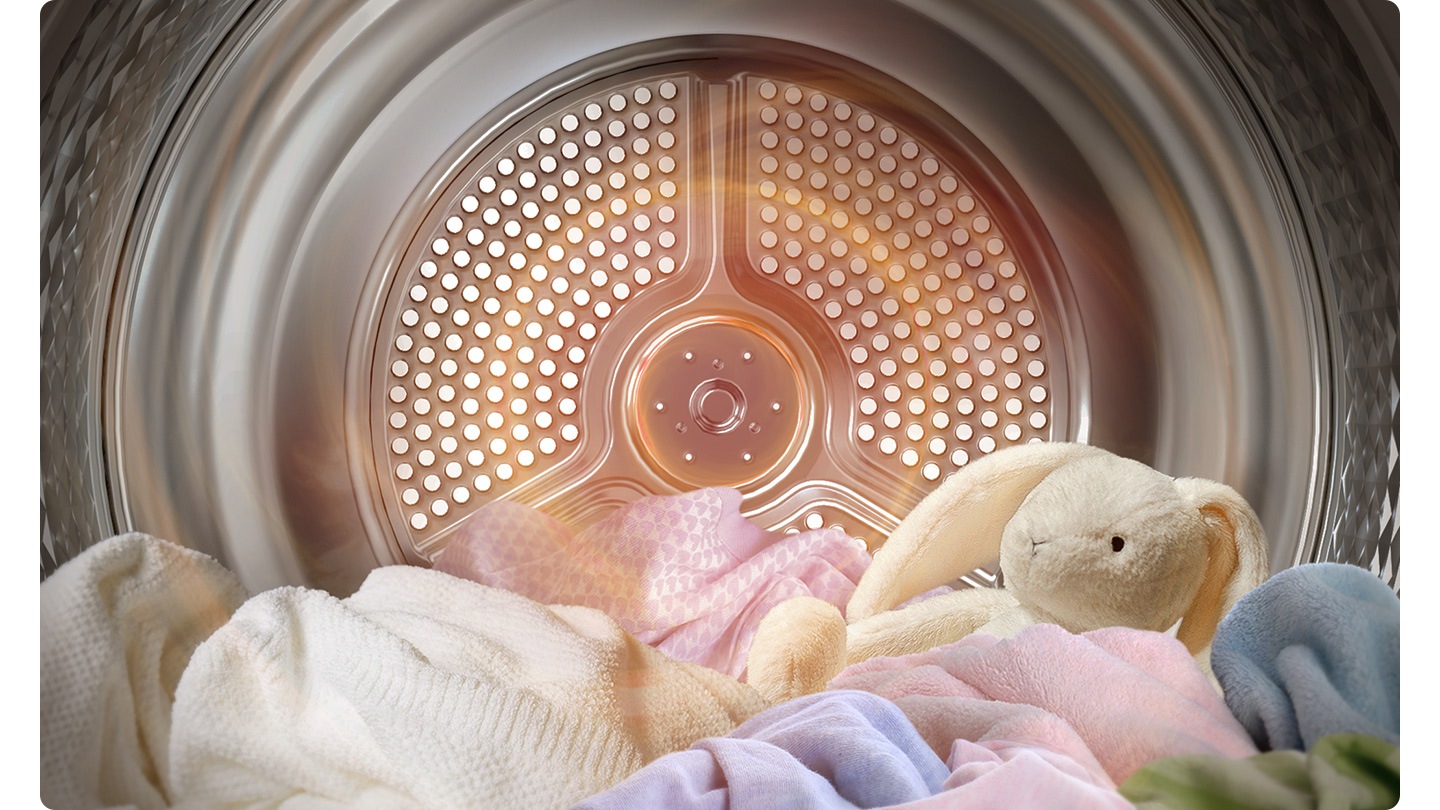 Left or right opening? You decide
Reversible Door
Feel free to put your Samsung tumble dryer where you want in the home, and adjust the door to work with the space. The reversible door lets you choose if it opens on the left or the right of the tumble dryer. Then it's easy to load and unload your laundry, and even easier if it's positioned next to the washing machine.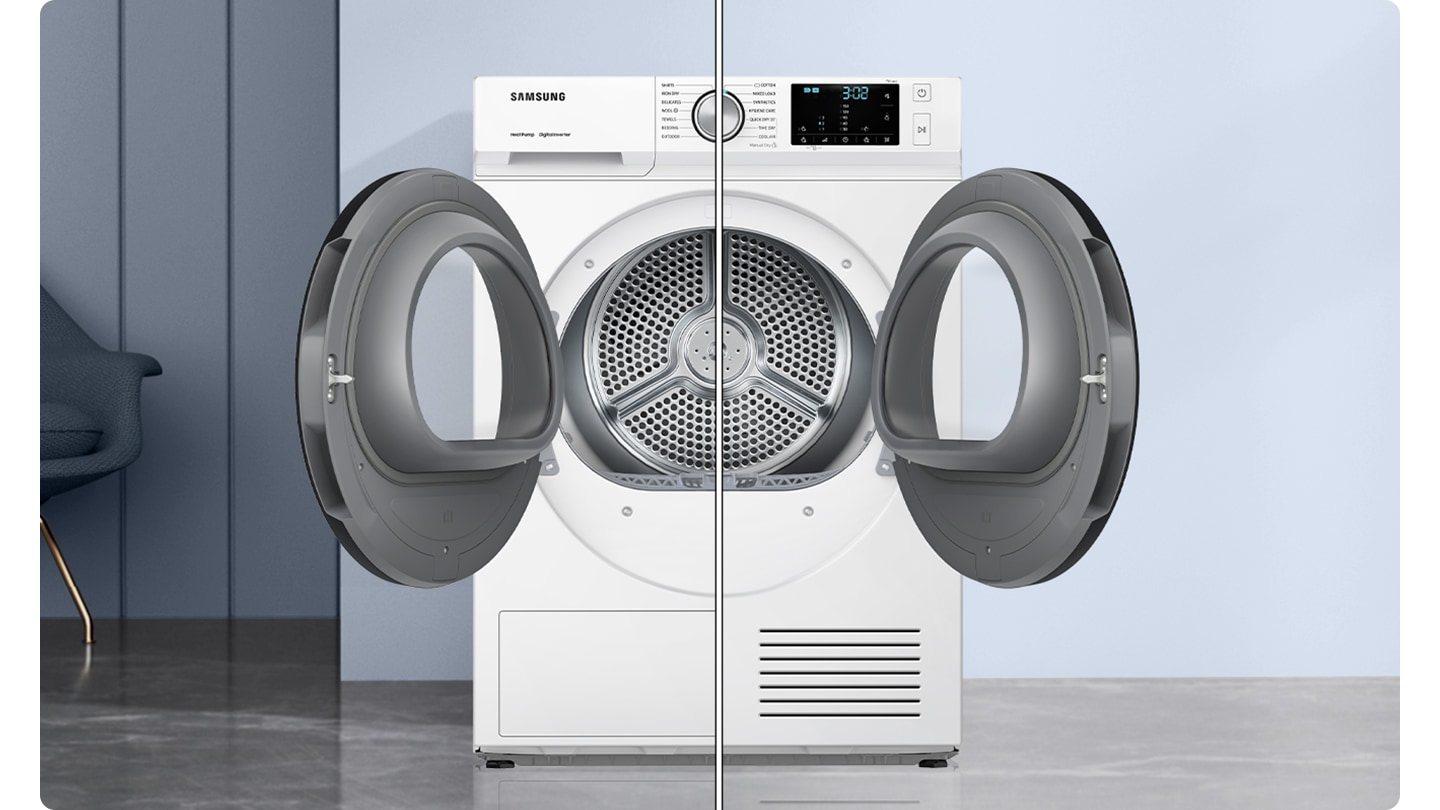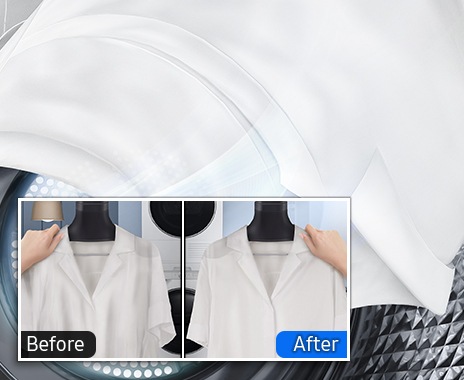 Wrinkle Prevent
Just choose the Wrinkle Prevent setting once your drying cycle ends –it works wonders for smoothing out creases.
Digital Inverter Technology
A quiet washing machine that's built to last, economical and has the added peace of mind of a 10-year warranty. It's all possible with Digital Inverter Technology.
* Generally, the level of noise is 62dBA for an inverter model (DV90T8240SX) and 65dBA for a non-inverter universal model (DV90TA040AE). ** The annual energy consumption is 194 kWh for an inverter model (DV90T8240SX) and 258kWh for a non-inverter universal model (DV90TA040AE). *** As at May 2022. The 20 year parts warranty is only applicable to the inverter motor.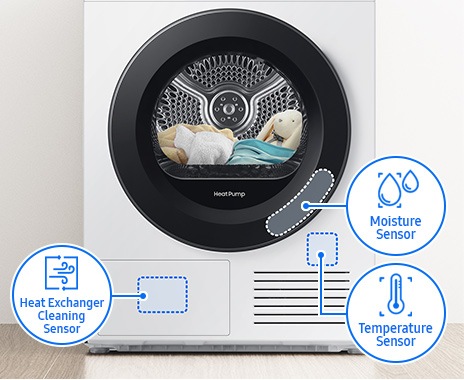 OptimalDry
Who says you can't tumble dry without wasting energy? Our temperature sensors adjust the drying time to do exactly that.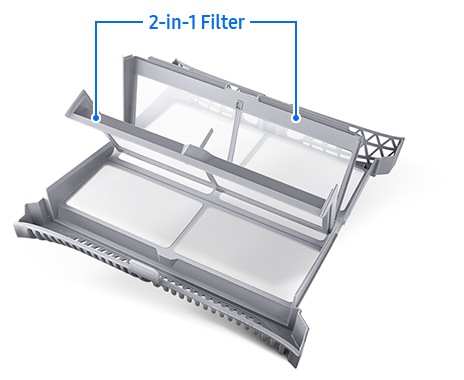 2-in-1 Filter
Look after your tumble dryer and optimise the drying performance with our 2-in-1 filter which collects fluff, meaning the heat exchange filter needs cleaning less often. It will even remind you when it needs to be done.
Air Wash
Sometimes your favourite shirt just needs a little freshening up, not a full-on wash. Choosing the Air Wash feature on your tumble dryer will do the trick. Banishing lingering smells and refreshing with a gentle, steaming air cycle.
Quick Dry 35′
Need clothes drying fast? Pop a load in the drum for a 35 Minute Quick Dry.
* May vary depending on the type of fabric.
Specifications
Energy Efficiency Class

A+++

Physical specification

600 x 850 x 695 mm