The ultra multisport GPS watch with preloaded full-colour TOPO mapping for Europe and wearable navigation features
Steel Grip design with stainless steel EXO-Antenna as bezel, forged steel back and sapphire crystal to maintain best integrity in demanding environment
Preloaded activity profiles for all your sports and adventures and Elevate™ wrist heartrate
Put key stats at your fingertips with the performance widget that shows the effects and progress of your workouts
Connected features2 include smart notifications, Wi-Fi support for automatic uploads to Garmin Connect™ online sport community and personalisation through free watch faces and apps from our Connect IQ™ store
Outdoor sensors, including GPS and GLONASS satellite positioning, barometric altimeter, 3-axis compass with gyroscope.
Battery life: up to 12 days in smartwatch mode (depending on settings), up to 20 hours in GPS mode or up to 50 hours in UltraTrac™ battery saver mode.
fēnix 5X is the ultra multisport GPS watch for athletes and adventurers. It's the first fēnix series watch to offer full-colour European recreational mapping for at-a-glance navigation and location reference – so you can beat yesterday, and be sure of getting back. You get training features such as Elevate™ wrist heart rate technology2, built-in activity profiles, advanced performance metrics and training status readings that allow you to train more efficient. Smart notifications1 help you stay in touch on the go. Plus, QuickFit™ bands let you tailor the look to any lifestyle or activity – no tools required.
Striking Design, Strong Performance
fēnix 5X is the ultra watch with 51mm diameter and the most advance training and navigation feature set. fēnix 5X features a rugged design and tough quality feel with a stainless steel EXO-Antenna as bezel and a forged steel back to guarantee the best integrity in demanding environments water-rated to 100 meters. The fēnix 5X matches both your aesthetic and athletic interests.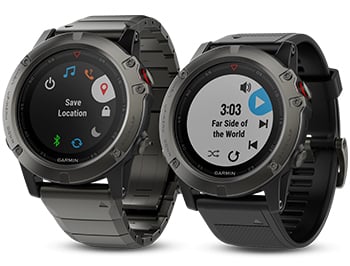 A Full-colour Roadmap to the Finishline
Whether you're in the city or on the trail, an array of fēnix 5X on-watch mapping and navigation features help keep you oriented and on-course at a glance.
Full-colour European recreational mapping that comes preloaded; map data is optimised for at-a-glance navigation and location tracking on your wrist
Round-trip routing options give runners and cyclists the ability to enter a distance they want to conduct and the watch will suggest appropriate courses
Easy-to-read guidance cues provide banners on the display that show upcoming turns
Around Me map mode displays locations nearby in a simplified graphical interface that increases awareness and ease when navigating in unfamiliar environments
Data overlays on the map highlight key information so you don't have to switch screens while in an activity
GroupTrack4 allows you to keep tabs on your buddies for adventures such as skiing; LiveTrack allows friends to follow your adventures in real time2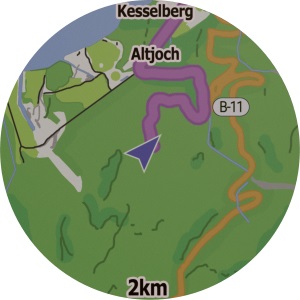 Outstanding readability on the Run
An always on, high-resolution, full-colour Garmin Chroma Display™ assures great readability at any time. fēnix 5X makes use of 1.2'' display with transflective technology that reflects and transmits light at the same time enables the watch face to become even better readable under intense sunlight. To guarantee enhanced durability in rough environment this sport watch offers a high quality scratch-resistant sapphire lens.
Wrist-based Heart Rate1
To provide the ultimate freedom to the ambitious athlete all fēnix 5 models include Elevate wrist heart rate technology that lets you monitor your heart rate without wearing a chest strap. With the new fully integrated Elevate sensor on your wrist you can control at any time the intensity of your training and track daily activities with 24/7 heartrate monitoring to gain more accurate information on burned calories during the day.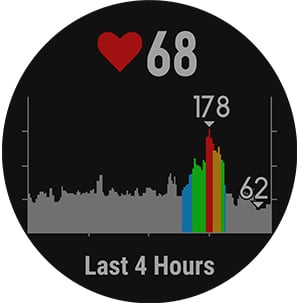 Match Your Style with Interchangeable Watchbands
A selection of QuickFit bands in your choice of premium leather, metal or silicone makes it easy to mix and match styles to go with any sport or activity. No tools are required to make the transformation. Just swap, click and go.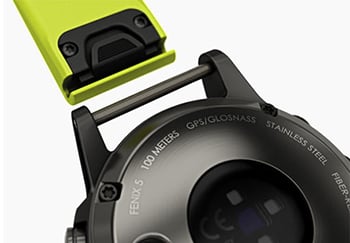 All you need to know about your Training
You aim to get better and better, this drives you through countless training hours. fēnix 5X's new Performance Widget holds all information easy to access in one place that will better track your fitness level and help you to train more efficient.
Training Status: Tells you how effective your training is and provides guidance on whether your workouts are productive and paying off.
VO2Max Estimator: Crunches running or cycling performance data to estimate the maximum volume of oxygen you can consume per minute and gives you an indication of your level of fitness.
Training Load: Tells you how hard you train over a period of time no matter which activity.
Recovery Advisor: With Recovery Timer that tells you the recommended recovery time counting down from your last workout.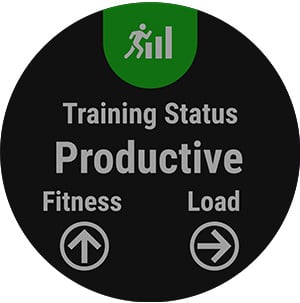 More advanced indicators like your functional threshold power (FTP) and Lactate Threshold help you to better judge your actual performance level during cycling or running and the Race Predictor eventually estimates your ideal finish time for a 5k, 10k, half marathon and marathon distance races based on your current VO2max number. Training Effect 2.0 will provide beyond this aerobic and anaerobic benefit scores so that you understand whether your high-intensity interval training really pays off.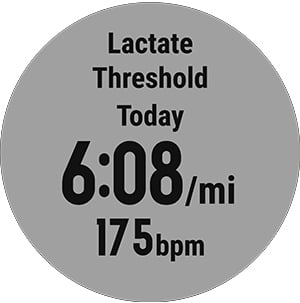 Step up your Running
Now you can go further with your running data. Garmin training features that tap into extended physiological metrics and advanced running dynamics1 can help improve your form and overall performance. These metrics include performance condition that compares your actual condition to your average fitness level, running cadence, and stride length. Make every run a personal challenge, compete against others on Strava Live Segments, get alerts for segment starts and finishes, view leaderboard rankings, and see how your current effort compares to your PR you can get.
Once paired with a compatible heart rate chest strap such as the HRM-Run™, you can access additional fēnix 5X metrics3 like Stress Score to measure your actual stress level based on your heart rate variability, vertical oscillation and ratio or ground contact time and balance to make your running more efficient.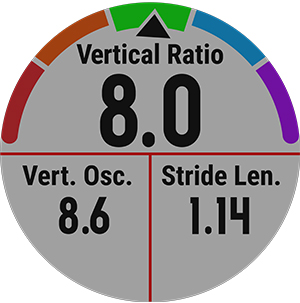 Run Vertical
fēnix 5X comes loaded with features that make all the difference on the trail. The Auto Climb/Run switch makes sure you get in any environment the right metrics – go for pace and distance once running in the flat and automatically switch to accumulated ascent and vertical speed once you start climbing. Use detailed TOPO mapping for better situational awareness in alpine environment. For the Ultra distance runner fēnix 5X provides a special mode that allows you to extend tracking to take it much further and track up to 100 h in the new gyro-reinforced UltraTrac®* mode.
A True Multi Sport Talent
For the multi-sport athlete of any type fēnix 5X is the perfect partner. Use dedicated activity profiles for Swim-Run or Triathlon or create the multisport profile that suits your training routine or race day. Transition easily from one activity to the next with just one button press to make sure all your training splits are taken into account.
The Watch for All Sorts of Sports
Beyond their running functions, fēnix 5X watches also offer special feature sets to support cycling, swim training, skiing, golfing and paddle sports, including stand-up paddle boarding and rowing. For cycling fēnix 5X supports speed and distance and all cycling dynamics once paired with a power meter, for swimmers, the device tracks your distance, stroke count and more. Ski/Board mode puts speed, distance, vertical drop and an automatic run counter at your fingertips. The feature set for paddle sports includes stroke count, stroke rate and even distance per stroke. Golf mode gives you yardage to the front, back and middle of the green for any single course you've downloaded from Garmin Connect – and also adds enhancements such as stat tracking (fairways hit, etc.), Green View, AutoShot detection and auto measure.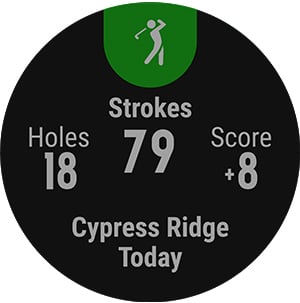 For cyclists, fēnix 5X also offers cycling-specific routings and is compatible with the Varia™ line of smart bike lights, rearview radar and wearable Varia Vision™ displays that aid in situational awareness on the road.
Navigate the Great Outdoors, Your Way
Each fēnix 5 guides you safely on and off the beaten path combining GPS/GLONASS positioning, advanced sensors and well known Garmin navigation features like TracBack™. To provide the most accurate information the device auto-calibrates its sensors using GPS. The built-in altimeter provides elevation data to accurately monitor ascent and descent, while the thermometer and barometer can be used to predict weather changes by showing short-term trends in air pressure. The 3-axis electronic compass keeps your bearing, whether you're moving or not.
So Many Ways to Stay Connected
All fēnix 5 series models can support smart notifications when paired with a compatible device. Receive emails, texts and alerts right on your watch. Another new fenix 5 feature is Group Track4 that allows you to pair your device through Garmin Connect™ so you can keep tabs of your connected buddies, and they can keep tabs on you when you get separated during an activity. Other connected features include automatic uploads to our Garmin Connect via Wi-Fi, live tracking and social media sharing through our free Garmin Connect™ Mobile applications
Custom Apps and Watch Faces
You can customise your fēnix 5X watch with free downloads from our Connect IQ store. Change your watch face, add data fields or get apps and widgets for information at a glance. Garmin is continually working with top companies and developers to build partnerships that add even more value to your fēnix multisport watch. Names such as Uber, Strava, AccuWeather and many others offer apps and enhancements that let you tailor your fēnix 5X to fit your lifestyle in more ways than ever.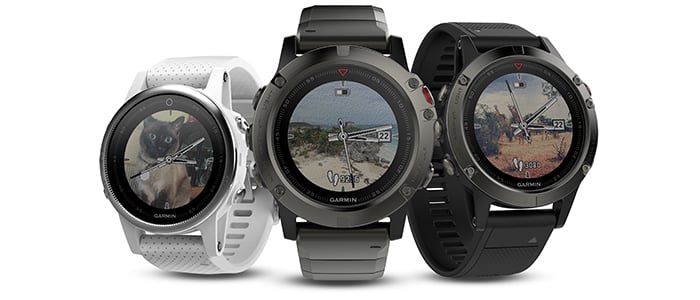 Wear Your Personality on Your Sleeve
You can also download the free Garmin Face It™ watch face app to customise your fēnix 5S with any photo from your smartphone. Just download the app, choose an image from your photo library, adjust the style for time and set it as your watch's face. Whether it's a scenic view from your last hike or a picture of your new puppy, with Garmin you can add personality to your watch that's uniquely you.
Running Power
Erhalte beim Training jetzt auch Leistungsdaten. Lade dazu unsere Running Power-App aus dem Connect IQ™-Shop auf deine kompatible Uhr herunter. Die von Garmin entwickelte Running Power-App ermittelt anhand von Daten wie Pace, vertikaler Bewegung, Steigung und sogar Windbedingungen wie viel Leistung du beim Laufen auf den Boden bringst. Wenn du weißt, wie viel Leistung du von Minute zu Minute und von Kilometer zu Kilometer erbringst, kannst du deine Pace besser anpassen, was dir wiederum dabei helfen kann, nicht so schnell zu ermüden. Das Beste daran? Falls du bereits die richtigen Garmin-Geräte besitzt, erhältst du die Leistungsdaten kostenlos. Du benötigst lediglich ein fēnix® 5-/fēnix 5S-/fēnix 5X-, fēnix Chronos-, Forerunner® 935-Gerät und einen dieser drei Zubehörartikel: HRM-Run™ , HRM-Tri™ oder Running Dynamics Pod. Weitere Informationen findest du auf der Seite zu Laufdaten.
Running Power
Add power data to your training by downloading our Running Power app from the Connect IQ™ store onto your compatible watch. Developed by Garmin Labs, the Running Power app taps into metrics — such as pace, vertical oscillation, grade and even local wind conditions — to determine the amount of power you're applying at the ground as you run. When you know how much power you're expending from minute to minute and mile to mile, you're better able to pace yourself, which can help keep you from tiring out too quickly. The best news? If you already own the right Garmin devices, adding power to your run is free. All you need is a fēnix® 5/fēnix 5S/ fēnix 5X, fēnix Chronos, Forerunner® 935 and 1 of these 3 accessories: HRM-Run™ , HRM-Tri™ or the Running Dynamics Pod. Visit the Running Science page to learn more.
1Activity tracking accuracy
2When paired with a compatible smartphone
3When paired with a heart rate monitor. Included with some models, sold separately on others
4When paired with a compatible smartphone - GroupTrack can track up to 50 people.
Wi-Fi is a registered trademark of the Wi-Fi Alliance. App Store is a trademark of Apple Inc. Google Play is a trademark of Google Inc.
*The UltraTrac feature is a GPS setting that records track points and sensor data less frequently. Enabling the UltraTrac feature increases battery life but decreases the quality of recorded activities. You should use the UltraTrac feature for activities that demand longer battery life and for which frequent sensor data updates are less important.
​